Although Hyperdrive is just one of several projects we have worked on recently, it was so big, took so long, and was so epic, that I decided to give it its own page.
In December of 2016 I received a phone call from a production company in west Hollywood, they explained to me that they had just sold a car show to Netflix and would I be interested in chatting with the executive producer about designing some courses for the show. Of course the answer was yes. They went on to explain the concept…American Ninja Warrior meets Fast and Furious…and it was!
2 months later, after many phone calls, I was in a conference room with producers, stunt coordinators, camera, lighting and production people. We spent 2 days throwing ideas out while a story board artist drew our ideas. When I got home after 2 days of random thoughts that usually started with "wouldn't it be cool if…..", I told my wife "that was the easiest money I ever made, these people are bat-s••t crazy and I will never hear from them again"…2 years later, in July and August of 2018 we were in Rochester NY building and shooting the show.
If you have not seen the show, this will take you to the trailer on Netflix – Hyperdrive
Here are excerpts from some of the articles written about this amazing show. Both trade publications and the general media reactions to the show.
Originally appeared in IGC (International Cinematographers Guild) magazine editorial – Wide Angle, by David Geffner
Hyperdrive had an amazing safety record – not a single incident despite the high potential for serious injury. Or as track designer and safety advisor Martyn Thake (a man who oversaw safety for the televised IndyCar racing series) told me: "Hyperdrive is a huge leap forward in showing this industry how to keep production crews safe without having to compromise content."
Originally appeared in IGC (International Cinematographers Guild) magazine – Aaron Catling, by David Geffner
With a set that covered more than 100 acres and a pre-production process that involved laying some five miles of cable, the physical logistics were daunting enough. But Catling also points to Hyperdrive's car-racing based world as a true narrative challenge. "Unlike American Ninja Warrior, where the emotions are plain to see," he explained a few weeks before Hyperdrive's debut, "driving is a solitary journey, with racing suits and helmets, in dark car interiors. Any good unscripted show relies on the personal drama, so we knew finding a way into each character's journey was the key."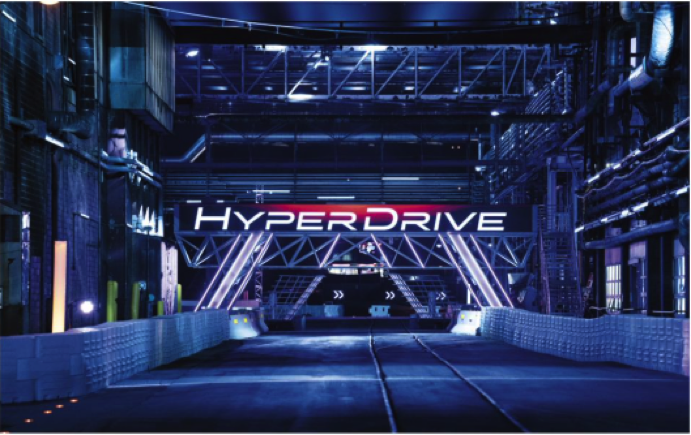 As the show was starting to take shape, William Morris connected Chris and Charlize [Theron], who came on as a co-executive producer.
Theron is an Oscar-winning movie star who has produced many features, but an unscripted show with racing cars would not be an obvious choice. Well, Charlize has many car movies in her background – Mad Max, The Fast and the Furious, The Italian Job. She's always loved cars and learned to drive at an early age in South Africa, so she was actually very excited to get involved. Her company, Denver and Delilah Productions, partnered with Whalerock, and they sold the show to Netflix.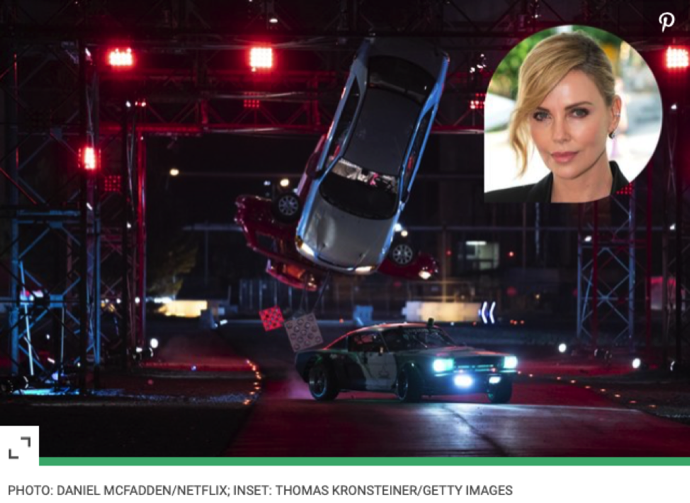 This wasn't "Let's do 20 setups in a day and cover 100 acres." This was "We need to shoot 360 degrees over 100 acres every day for ten days to make the show." That's why you get the best people in the business – Adam and his [Local 600] camera team, [director] Patrick McManus, [course designer] Martyn Thake, [stunt coordinator] Andrew Comrie-Picard, [1st AD] Dave Massey, the technical and challenge teams – for a monumental undertaking that was so far beyond anything ever done in this format.
What were the concerns of Production when the course was first being designed by Martyn Thake, who has created professional tracks all over the world? We had to approach this like a live sporting event and take great care to keep the audience grounded – where the cars started, where they traveled, where they end up. It's something that's actually carried all the way through the edit. We knew we'd have to cut several minutes out of each run for television, being careful that those jumps in time are not too much of a temporal shift for the viewer. As for building the track, we really began with the obstacles, and that began with meeting with drivers from around the world to ask, "What is something you've always wanted to do in a race car that you've never been able to?"
Photos by Daniel McFadden/ Courtesy of Netflix Original Series