Sunday, September 4, 2011
Baltimore embraces inaugural grand prix
By John Oreovicz
ESPN.com
BALTIMORE -- The Baltimore Orioles' team batting average is .255, putting it smack in the middle of the major leagues.
The Izod IndyCar Series is batting 1.000 in Baltimore after the most successful inaugural American street racing event in the past 30 years.
An estimated 75,000 spectators turned out to see Will Power score a dominant victory over Oriol Servia and Tony Cannan, pulling him within five points of championship leader Dario Franchitti.
The massive turnout quieted the doubters who had criticized efforts to stage a street race in Baltimore's Inner Harbor district.
And it also showed that there's still hope for rebuilding Indy car racing into a mainstream sport again after more than a decade of it slipping into niche sport status.
They filled the 32,000 grandstand seats and they lined the fences bordering the 2.04-mile street circuit in the heart of Charm City.
They stood 15 deep outside Danica Patrick's team transporter patiently waiting for pictures and autographs.
And you got the feeling that they will all be back for next year's Baltimore Grand Prix. Even without Danica on the grid.
You also got the feeling that the BGP will be back bigger and better than ever next year. With a title sponsor, for example.
The Baltimore Grand Prix already has jumped to No. 2 on IndyCar's road racing hit parade, right behind the venerable 37-year-old Toyota Grand Prix of Long Beach and ahead of Mid-Ohio, Toronto and St. Petersburg.
Some people were saying Sunday that they thought the crowd at Baltimore was bigger than at Long Beach, the granddaddy of American street races.
It wasn't a one-day crowd, either, like many IndyCar oval events attract. There were tens of thousands of fans on hand Friday and Saturday for a full bill of racing that included four open-wheel categories and an American Le Mans Series sports car race.
It served as a not-so-quiet reminder that while street racing events may not produce the wheel-to-wheel battles and frequent passing that are a hallmark of the best oval races, they are certainly appealing in their own right as a spectator experience.
Baltimore mayor Stephanie Rawlings-Blake was certainly breathing a sigh of relief after the success of the inaugural event.
In an election year, Rawlings-Blake was criticized for directing funds toward the grand prix as opposed to other causes.
But in what has been a rarity over the past 30 years, the Baltimore race lived up to its potential, with a racy street course, big-event ambience and atmosphere in abundance, and plenty of support from curious local race fans.
"There were so many people who, when we had traffic problems or parking problems or any delay, the naysayers certainly had their day," Rawlings-Blake said.
"Until the race started."
She added: "I want to thank everyone that was involved to make sure that the naysayers have been silenced."
The participants from the IndyCar Series were certainly impressed with the reception they received from Baltimore.
"It's unbelievable. I've never been in a place where it was this crowded and the fans were so passionate." -- Tony Kanaan
"What really struck me here was the attendance, the enthusiasm and the buzz here," Penske Racing president Tim Cindric said. "I put this right up there with Long Beach. I was impressed with the knowledge of the fans, and obviously they came out in masses the past three days.
"You go through challenges anytime you go to a new street course," he added. "Nobody has been through it before and we're all smarter when we leave."
"It's unbelievable," third-place finisher Kanaan said. "I've never been in a place where it was this crowded and the fans were so passionate. Back in Brazil it's kind of like that, but yesterday night I'm walking to have dinner and it took me 45 minutes to walk four blocks because everybody was stopping me, taking pictures.
"Everybody worked hard and it is a beautiful track -- bumpy and difficult," TK added. "We complain a lot, but it made the racing very interesting. We didn't see a lot of crashes and it was a very competitive race. But I'm amazed with the crowd. Apart from Indianapolis, I haven't seen a street course with that many people."
Those packed grandstands and local hotels and restaurants on Friday, Saturday and Sunday can only help in that endeavor.
For three decades, street races from the Meadowlands to Miami have been jockeying to call themselves the "Long Beach of the East."
And in the Baltimore Grand Prix, it looks like INDYCAR finally found one that deserves that crown.
John Oreovicz covers open-wheel racing for ESPN.com.
Here is a sampling of some of the articles that have been written about MCS and the projects we have worked on over the years...
Collectors and Speed Freaks Take Car Condos for a Spin
Developments with their very own test tracks are fulfilling a need for speed and high-end living, too
By
A.J. Baime
Wall Street Journal - Aug. 29, 2019 11:05 am ET
https://www.wsj.com/articles/collectors-and-speed-freaks-take-car-condos-for-a-spin-11567091129
When some people dream of a second (or even third) home or property, they imagine views of a pristine lake or a peaceful golf course. Not Julie Hertzberg. When it was time for her to take the plunge, she wanted thundering V-8 engines and the smell of hot rubber on pavement.
Ms. Hertzberg, 46, a managing director in the Detroit office of the financial consulting firm Alvarez & Marsal, and her husband Robert Hertzberg, 65, a partner with the law firm Pepper Hamilton, bought a car condo. The 1,200-square-foot unit started out as an empty box, and the couple turned it into a two-floor space. On the bottom floor is a garage with a polished concrete floor. The couple's 2016 Chevrolet Corvette Z06 (bought new for about $105,000) and 2017 Ford Mustang Shelby GT350R (about $65,000) are considered two of the most high-performance cars ever built at their price-points, while their 2010 Ferrari 458 (about $235,000 in 2010) is no slouch. When time permits, the couple can be found throttling these vehicles on the high-performance test track that sits right outside their condo. Otherwise, the cars make for gleaming sculpture pieces.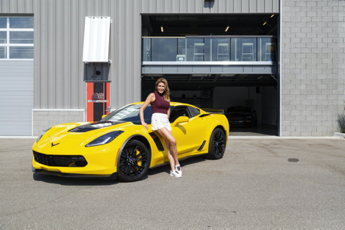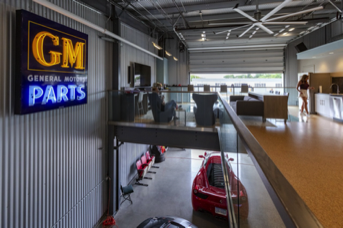 "For the upstairs," Ms. Hertzberg says, "we wanted a cigar-bar feel but also a functional living space." There is a king-size Murphy bed for overnighters, a bar, kitchen, an entertaining space, plus a glassed-in bar space that looks out over the speedway, for spectating the action.
The couple's car condo is in a development called M1 Concourse, built on 87 acres in Pontiac, Mich. The development has everything needed to draw in a highly specific clientele—car nuts. The winding track measures 1.5-miles long. There is a private motor sports club, and 173 car condos built and sold thus far. "There's a special vibe to the whole place," says Ms. Hertzberg. "You wouldn't find it anywhere else."
M1 Concourse is one of a growing number of developments nationwide aiming to draw car lovers into a wholly different kind of real-estate market. If there is wealth in a city or town, there are likely to be car collectors, and increasingly, car condo campuses. There's Iron Gate Motor Condos in Naperville, Ill., outside Chicago, and Trove, outside Vancouver. There's CollectionSuites outside Miami, and Monterey Motorsport Park in Monterey, Calif.
M1 Concourse is unusual for having its own performance test track. The first condos were completed in 2015. Purchasers bought an empty box and then built out their spaces as desired. The Hertzbergs purchased their space at a discount for $225,000 because they bought before construction was completed. Ms. Hertzberg says if she tried to sell that same 1,200-square-foot empty box today for $550,000, there would be a bidding war. They put $200,000 into the build-out, and the work isn't done yet; they are planning to build an elevator lift, so they can carry a car from the downstairs floor upstairs, to make it a showpiece when they host parties.
For some, having this kind of space is all about the cars. "Space is key for car collectors," says Gordon McCall, 61, the California-based CEO of McCall Events and an investor in the Monterey Motorsport Park car condo complex. It has 86 units ranging from less than 700- to nearly 2,600-square feet. Two 2,094-square-foot units are currently listed for $747,000. "People do not want to have to sell a car to make space for a new one," said Mr. McCall. Others, he says, "trick out their spaces. You can have a satellite office, or a lounge where people can hang out in a place other than their home, while communing with their cars or motorcycles."
On the other end of the spectrum are developments that aren't condos at all, but rather multimillion-dollar mansions built around private test tracks the way homes are built around high-end private golf courses.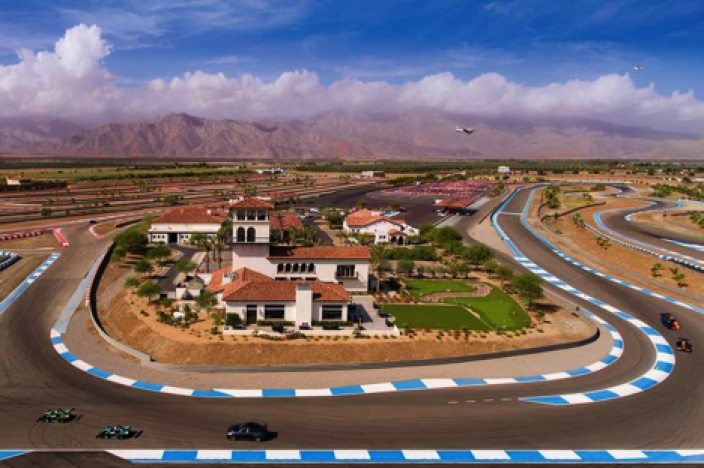 The Carousel turn on the North Palm Circuit at the Thermal Club in Thermal, Calif., wraps around the community's clubhouse and restaurant. PHOTO: ERIC FIGGE
Across the country in Thermal, Calif., just outside Palm Desert, developers Tim and Twanna Rogers—former oil-industry entrepreneurs in their 70s who live in Palos Verdes Estates—are trying to create the apogee of motor sports clubs. When they started building the Thermal Club in 2012, this section of earth was mostly scrub desert and rattlesnakes. Today, four racing circuits wind around a "motor sports village" complete with a clubhouse/restaurant and two shops where members can have their road and racing cars serviced by professional technicians. A pool and tennis club are in the making. The homes feature ground floor garage spaces for car collections and a luxury mansion feel above.
According to Mr. Rogers, there are 268 lots at the Thermal Club. Seventy-five have been sold, and 32 homes have been completed. On any given Sunday, Aston Martins and Porsches can be seen just about everywhere the eye turns, and at the lunch hour, the clubhouse fills with members—not in golf shirts, but in racing suits. A five-bedroom, seven-bath, 9,500-square-foot home is currently on the market for $3.6 million, while a 20,000-square-foot home recently sold for $6.5 million, according to Mr. Rogers.
"You can have a satellite office, or a lounge where people can hang out in a place other than their home, while communing with their cars or motorcycles."
—Gordon McCall, CEO of McCall Events and an investor in the Monterey Motorsport Park
Real-estate projects that focus on a motor sport concept face unusual challenges, including noise ordinances and permitting for gasoline pumps. M1 Concourse's track is directly adjacent to a residential neighborhood in Pontiac. The original developer, 49-year-old Brad Oleshansky (who left the company earlier this year to create similar projects in other parts of the country) says the community embraced the project during development and construction in 2014 and 2015 because it was built atop a tract of land that was home to an abandoned General Motors Factory.
Building M1 Concourse, Mr. Oleshansky says, required removal and environmental cleanup of "two million square feet of concrete, old steam tunnels, etc.," materials that he says neighboring residents were happy to see gone. Meanwhile, the development created jobs and tax dollars for the community.
Ready to Ride at M1 Concourse
Laurie Cunnington's car condo is steps away from 1.5 mile test track in Pontiac, Mich.
Photos Marvin Shaouni for the Wall St Journal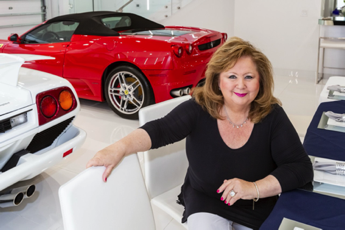 M1 has special street cred for another reason. It is located near the epicenter of American car history, just outside Detroit, the "Motor City." "I'm a Detroiter," says Laurie Cunnington, another M1 Concourse car condo owner. "Detroiters love their cars."
Ms. Cunnington received her car condo as a gift from her husband in 2015. (They are both entrepreneurs and former co-owners of the Ward Williston Oil Co.) The cost: $275,000 for the 1,200-square-foot empty space, before the build-out. On the ground floor, Ms. Cunnington keeps a small collection of her rare Italian cars—a 1991 Lamborghini Diablo, a 2007 Ferrari F430, and a new vehicle that just arrived from Italy last month, Ferrari's latest hardtop convertible, the Portofino. She is an unabashed fan of speed, and loves the fact that she has female neighbors in her development who, like her, enjoy using the track.
Upstairs, her car condo is a fully imagined entertaining space created by local designer Pamela McCarthy Designs, with lots of stainless steel accents and glass shelving. Ms. Cunnington wanted her space to be, in part, a paean to her home city, so the Detroit Wallpaper Co. custom-designed a panel for her with a pattern of Detroit street names and the names of Detroit-made automobiles.
"Everyone who has a place here knows everyone else," she says of M1 Concourse, "and everyone is very friendly, because everyone shares this passion for cars."
As for noise, Jordan Zlotoff, M1 Concourse's current CEO, says that the cars on its track are typical production performance cars that are built with noise-damping features. "We don't do wheel-to-wheel competitive races with actual race cars," he says. There is no driving on the track after sunset, and there are restrictions on modified exhaust systems. (A phone call to the local police department in Pontiac confirmed there have been no recent complaints about noise.)
As for the price of the build-outs at M1 Concourse, Mr. Zlotoff estimates that owners spend anywhere from a couple of thousand dollars to roughly $1 million.
M1 has special street cred for another reason. It is located near the epicenter of American car history, just outside Detroit, the "Motor City." "I'm a Detroiter," says Laurie Cunnington, another M1 Concourse car condo owner. "Detroiters love their cars.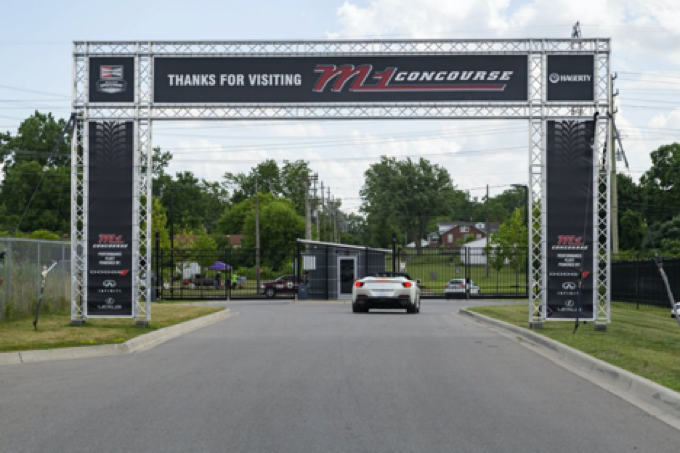 PHOTOS: MARVIN SHAOUNI FOR THE WALL STREET JOURNAL